Babs was hard.  Today 2000m row for active recovery and foam roll.
Tomorrow we SQUAT!
CrossFit debate not going away
Critics cite injuries, unorthodox programs; supporters point to results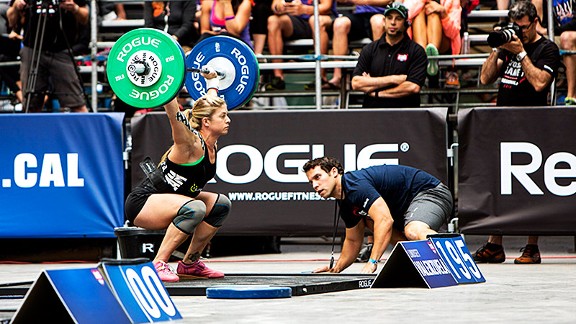 Courtesy CrossFit, Inc.Olympic-style lifts like the snatch are a CrossFit staple, but some question their safety.
Almost 10 years ago, a story about CrossFit in the New York Times was headlined, "Getting Fit, Even if it Kills You."In the years since, CrossFit has been at the center of a public feud between its legions of believers and its critics, each arguing that: (A) CrossFit is the best and most challenging fitness program they've ever found, or (B) it's a program that recklessly pushes practitioners into danger zones.
Since that Times article in 2005, other pieces about CrossFit have carried headlines such as "CrossFit's Dirty Little Secret" and "Can CrossFit Kill You?" More often than not, the comments sections on those stories online have degenerated into nasty digital duels between the passionate supporters and detractors. The only absolute certainty about CrossFit seems to be that it's a polarizing topic.
So when a CrossFit athlete and trainer named Kevin Ogar was injured seriously in a recent Southern California competition that featured CrossFit-like events (but was not sanctioned by CrossFit), the tragedy sparked yet another series of national stories and a war of words.To Dr. Andrew Galpin, an assistant professor in the Department of Kinesiology at Cal State Fullerton — in Orange County where Ogar's injury occurred — the latest stories were to be expected.
"You don't like CrossFit, so you see this thing and there you go, it confirmed your bias," said Galpin, who is familiar with CrossFit and specializes in the study of performance enhancement and strength and conditioning.
That doesn't necessarily mean there's nothing wrong with CrossFit, he says, adding there are "a lot of things that CrossFit does really, really bad." But he says it's "a massive failure in logic" to single out one injury in one event and declare it to be proof that the program is dangerous.
Since Ogar was injured on Jan. 12, Galpin says he hasn't noticed any increase in negative buzz about CrossFit from his students or the people he talks to. And, in fact, the incident doesn't seem to have dissuaded people from trying CrossFit. Down the road in San Diego, for instance, Aush Chatman, who owns and operates the CrossFit San Diego gym, says he had more newcomers in January 2014 than in any previous January.
Galpin says questions about CrossFit haven't increased because it's always being questioned.
"You know, honestly it hasn't picked up that much because actually it's pretty prevalent as it is," Galpin said. "We get it quite a bit, and honestly I get a lot of that question from even my grad students or my senior-level kinesiology students. They'll say, sort of tentatively, 'What's the deal with that CrossFit, is that all right?'
"There's a lot of unsurety behind it and I tell them the same sort of thing: there's some really bad CrossFit and some really bad CrossFit trainers, and there's some really bad tire companies and some really bad insurance companies and there's some really bad computer makers. It's just like anything else. You have to be an aware consumer."
A "tragic, freak event"
The injury to Ogar — Read more Wednesday 140212 ›